Clowns, Clothing and Christ Part Three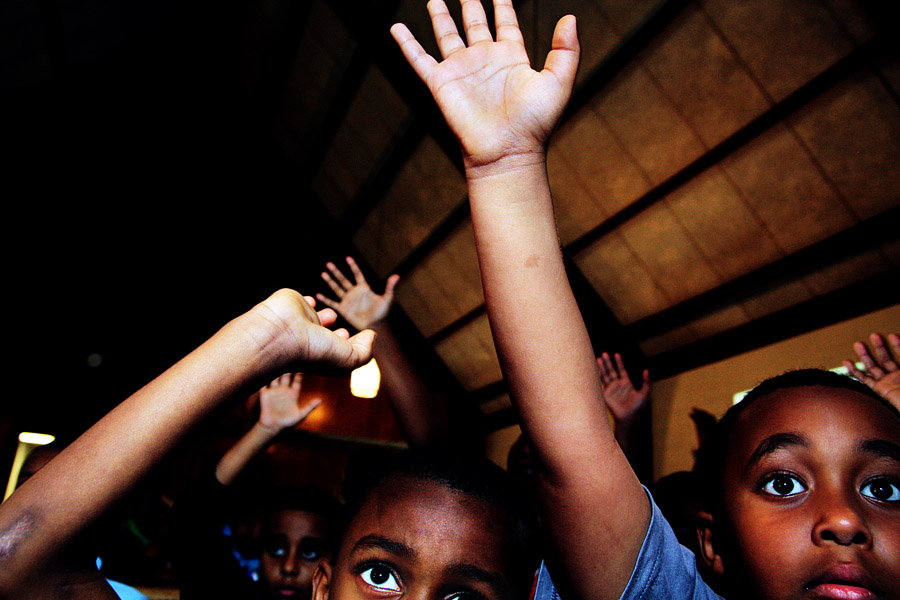 I travelled with a charity group that distributed clothes and school supplies to poor kids in the rural areas of Kentucky and Virginia. Â Also traveling with us was a duo of Christian clowns that performed for the children before they were given their supplies.
Now, previously to the school shown in the following pictures, we had been at a small public school in coal country. Â The coal-miner children there were, for the most part, Â noticeably pensive, stoic and /or downright grim. Â However, we also visited this small Christian school that educates, houses and feeds at-risk kids from all over the world. Â At this school, a private institution, the children were engaged, energetic and connected. Â I didn't see any loners or bullies. Â They were so affectionate and kind towards one another. Â I can't say I've ever seen anything like it before.


The clowns performed fairly simple magic tricks that were suppose to illustrate certain aspects of Christian faith.  In this instance a volunteer from the audience  prays over a magic trick.  She is rewarded with a dollar bill.  Other tricks rewarded children's prayers with candy.  Some tricks yielded the children with nothing because they were "not praying hard enough."  I can't say that I agree with this strategy.  A few kids were crushed when their prayers, as earnest as anything I've ever witnessed, were not rewarded with candy or money.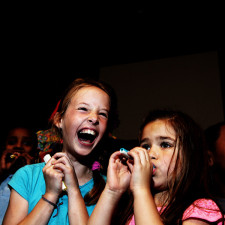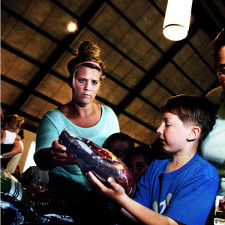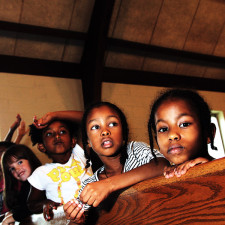 When kids are in a group, they usually exhibit a uniform behavior. But here at this special school, each child's personality was quite distinct from one another. The girl in the first photo  was pure sunshine, always laughing and delighting.  The girl in the last photo was quiet, intense and thoughtful. She wasn't watching me, she was studying me.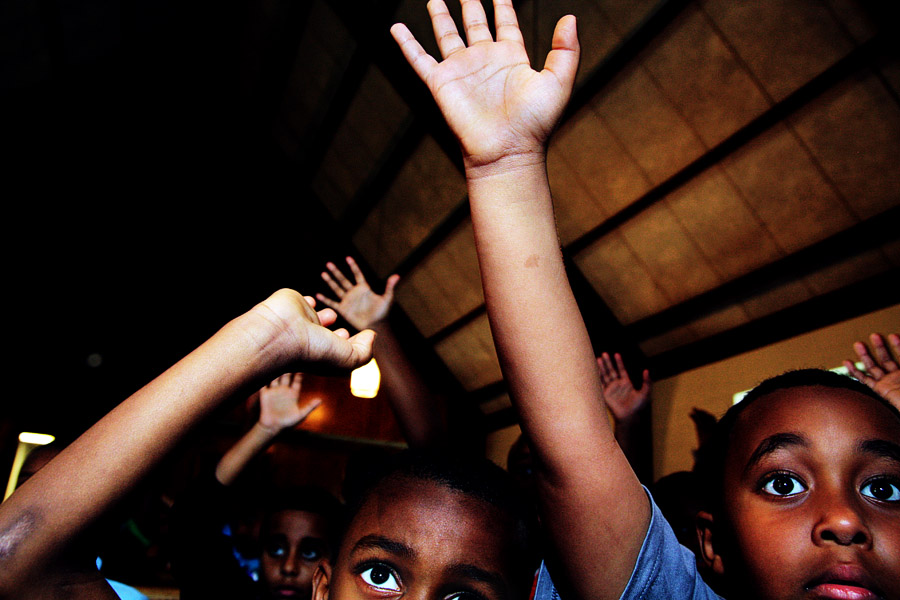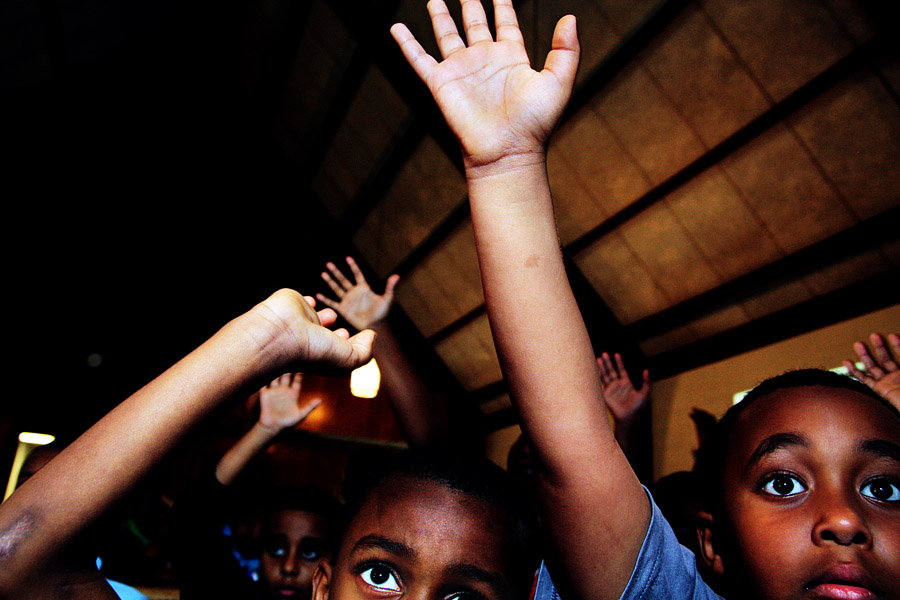 There was never any difficulty getting these kids to participate in the clown's show. Â Always, it was hands up, eyes forward. Â They were so in to it!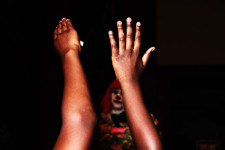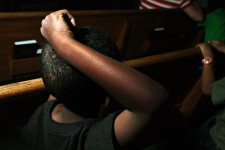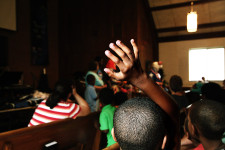 Hands up! Â Hands up!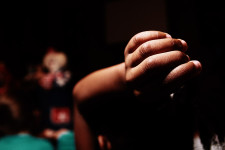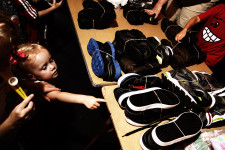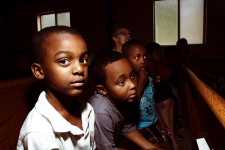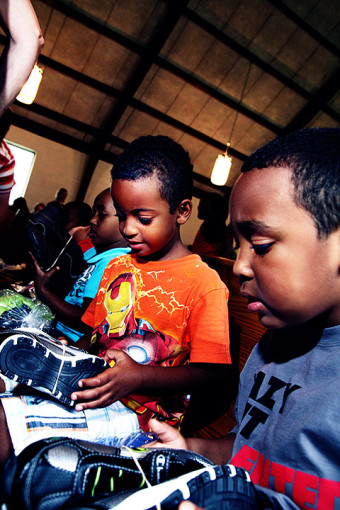 A happy boy waiting for his new shoes. >>These two little guys seemed kind of stunned by all the activity.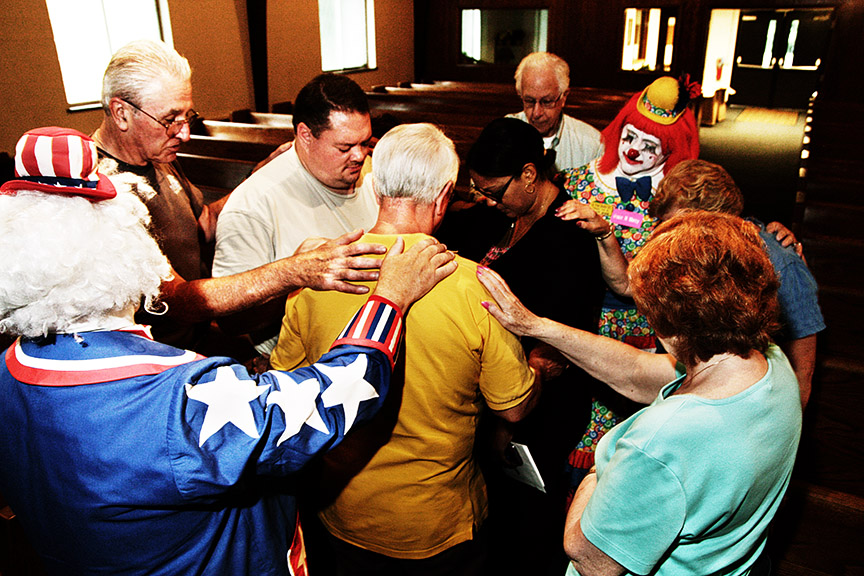 The clowns, staff and charity volunteers do some hands-on praying.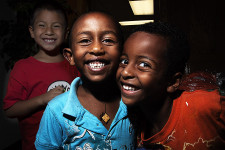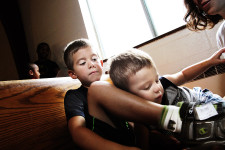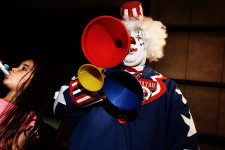 Two very happy kids. >>A boy gladly suffers his rambunctious little brother has he tries on his new sneakers. >> The camera catches the clown's eye. Â You see it? Â I did ,too.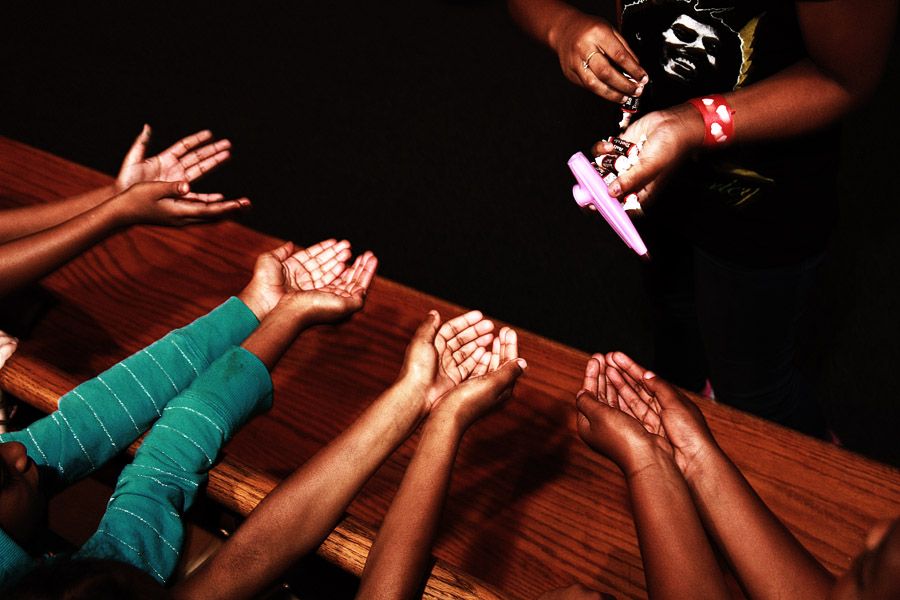 You can't go wrong with free candy.
---
Bonus pic: Â Me, the clowns and the nice woman who runs the charity.

I am wearing a pink tie that I bought in a store that sold mostly hardware and supplies for coal-miners. Â  But they also had a section where they sold funeral supplies: Â wreaths, plastic flowers and inexpensive black suits. Â The mines are dangerous as hell.
---
---
Text and Images © Andrew Auten – All Rights Reserved
---